Todoroki Autumn Festival. Nov
In this event, the mikoshi (portable shrine) runs down the steep stone steps just outside the shrine and enters the waterfall basin with its bearers to pray for health, safety, and peace.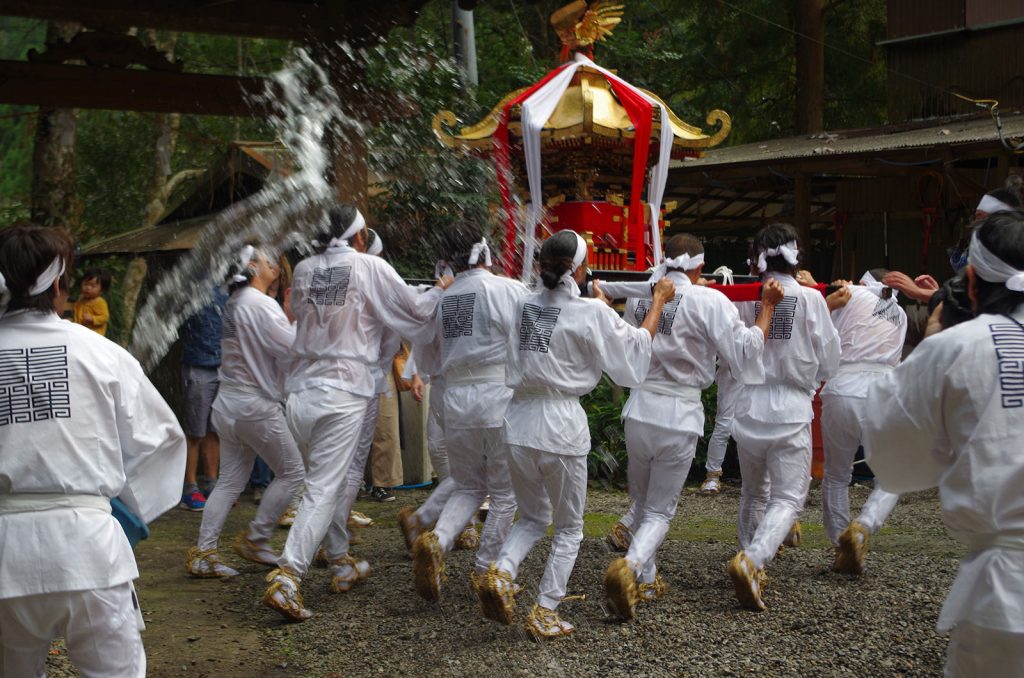 Men dressed in white robes carry a mikoshi (portable shrine) from Todoroki Shrine and run down the 140 steep stone steps. Pass through the precincts of Ryuo-ji Temple, head for the waterfall, pass between the rocks, cross the river, and enter the basin of the waterfall.
Event schedule
Date and Time

sun,13.11.2022

Place

Hirai Kaiyo-cho Kaifu-Gun Tokushima-ken
Detail
13:30 -

Kainan drum (cancelled in case of light rain or rain)
Dance dedication of the dragon god

14:00 -

ceremony
Departure of "Rampage Mikoshi" from Todoroki Shrine (throwing rice cakes in 2022 will be handed over)
Mikoshi parade to Todoroki Hontaki Shrine Entering the waterfall
In 2022, the dedication of Kainan-daiko and Ryujin no Mai will be held from 1:30 pm. Please take precautions against infection by the new coronavirus, as the event may be crowded.
Regarding the temporary parking lot in 2022, a temporary parking lot will be set up 500 meters away from the venue on the day.
*The shuttle bus will run to the venue from 10:00 am to 4:00 pm (12:00 pm to 12:30pm no service).
*If you are coming by car, please park in the temporary parking lot.
Event information
Address

Kareidani Hirai Kaiyo Town, Kaifu District, Tokushima Prefecture

Telephone number

0884-75-2216 (Todoroki Shrine)

Access

By car/ About 3 hours from Tokushima IC via National Route 11 → 55 → 193
Public Transportation: From JR Awa-Coast Station, take the town bus (Hirai Line) and get off at Todoroki Shrine (not in service on the 3rd day of the New Year)