Takegashima Shrine festival. May
It is the earliest summer festival in the prefecture, and is famous for the rampaging mikoshi that goes into the sea.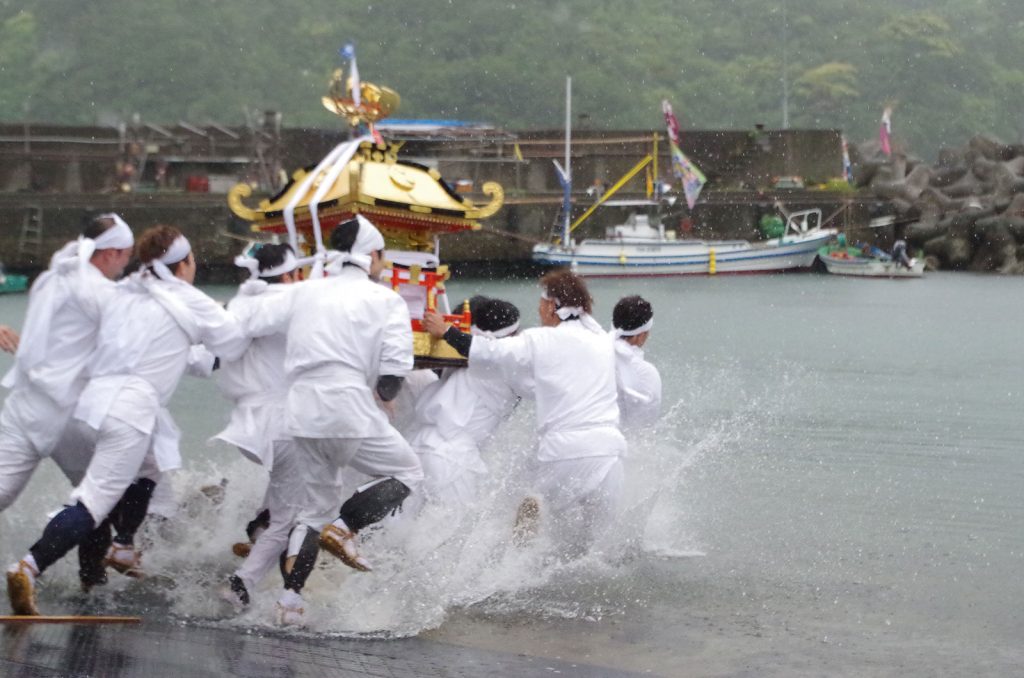 A Shinto ritual is performed while the drums are played, and the object of worship is transferred to the mikoshi (portable shrine). With the yells of "chousaja, chousaja", the mikoshi dashes down the stone steps at once and parades vigorously through the people in the square.The mikoshi is submerged in the sea two or three times, bathed in the splashes of the Kuroshio Current, and the mikoshi that rises to land enters Uraiso no Tabisho on the east coast (Uraiso is a beach on the coast facing the bay). Then, The priest recited a Shinto prayer, and everyone on the island, from the elderly to children, walks under the mikoshi.
Event schedule
Date and Time

sun,15.05.2022 ~mon,16.05.2022

【cancel】

Place

Takegashima Shishikuiura Kaiyo-cho Kaifu-Gun Tokushima-ken
Detail
(*The festival will be canceled in 2022, but only the dedication fireworks display will be held from 7:30 PM on Sunday, May 15th.)
(Sun) 15 May

1:30 p.m. - Child Mikoshi
7:30 p.m. - Dedication firework

(-) - May

8:00 a.m. - Gokitosai
1:00 p.m. - Mikoshi Ohamaide (Kaicyutogyo) throwing rice cakes

Event information
Address

Takegashima Shishikuiura Kaiyo Town, Kaifu District, Tokushima Prefecture

Telephone number

0884-76-3050 (Kaiyo Town Tourism Association)

Access

From Tokushima IC, via National Route 11 (towards Tokushima City) and take National Route 55 toward Muroto for about 2 hours 10 minutesPublic Transportation / Asa Coast Railway Get off at Shishikui Station - Nanbu Bus (bound for Kanoura) Get off at Takegashima bus stop, 5 minutes by walk