Inokami Shrine festival. Jul.
At the pool of the river, a rampaging mikoshi (portable shrine) will be carried around, stalls set up by local young people, and throw mochi (rice cakes). [The festival has been canceled to prevent the spread of the new coronavirus.]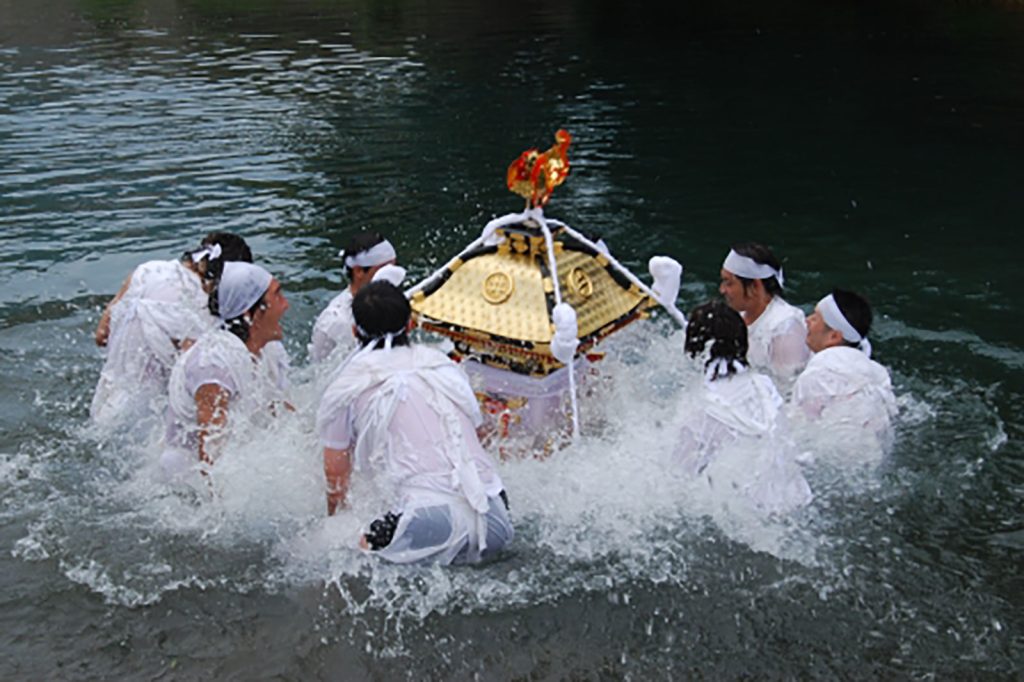 The enshrined deity of Inokami Shrine is Minakatame no Mikoto, the god of water. The date of establishment is unknown, but there is a billboard from the second year of Kanpo (1742). Shrine parishioners used to pray for rain when there was a water shortage. Every year, on the first Sunday of July, a mikoshi (portable shrine) is carried around, in the river's pool for the annual festival. Until this was built, women were prohibited. After the portable shrine, there is a mochi (rice-cake) throwing ceremony, and local people open stalls.
Event schedule
Date and Time

sun,03.07.2022

【cancel】

Time

From 10:00 a.m. - around 3:00 p.m.

Place

Ono Hibihara Kaiyo-cho
After the Omikoshi, there is a dedicatory rice cake throwing.
Detail
*Please note that 2020 has been cancelled. Only Shinto rituals will be held.
around 2 p.m.

The Mikoshi (portable shrine) will be carried by local youth volunteers and enter the river.
Since this is a Shinto ritual, the time and content of the event may be subject to change.


10:00 a.m. - 3:00 p.m.

There will be stalls set up by local residents in front of Ono-Hiyama Kaikan.
●Goldfish scooping, yakisoba, yakitori, kakigori(shaved ice), sausages, etc. (planned)
Event information
Address

Ono Hibihara Kaiyo Town, Kaifu District, Tokushima Prefecture

Telephone number

0884-76-3050 (Kaiyo Town Tourism Association)

Access

By car/ About 2 hours 20 minutes via National Route 11 → Route 55 → Prefectural Route 301 from Tokushima IC
Public Transportation / Municipal Bus Hisao Line Get off at Hibihara bus stop, 7 minutes by walk (closed on Sundays and New Year's Day)