Hahagawa firefly festival. Jun.
During the festival, the fantastic light of Genji fireflies can be seen from Takase-boat, and night stalls will be set up only on the first day of the festival.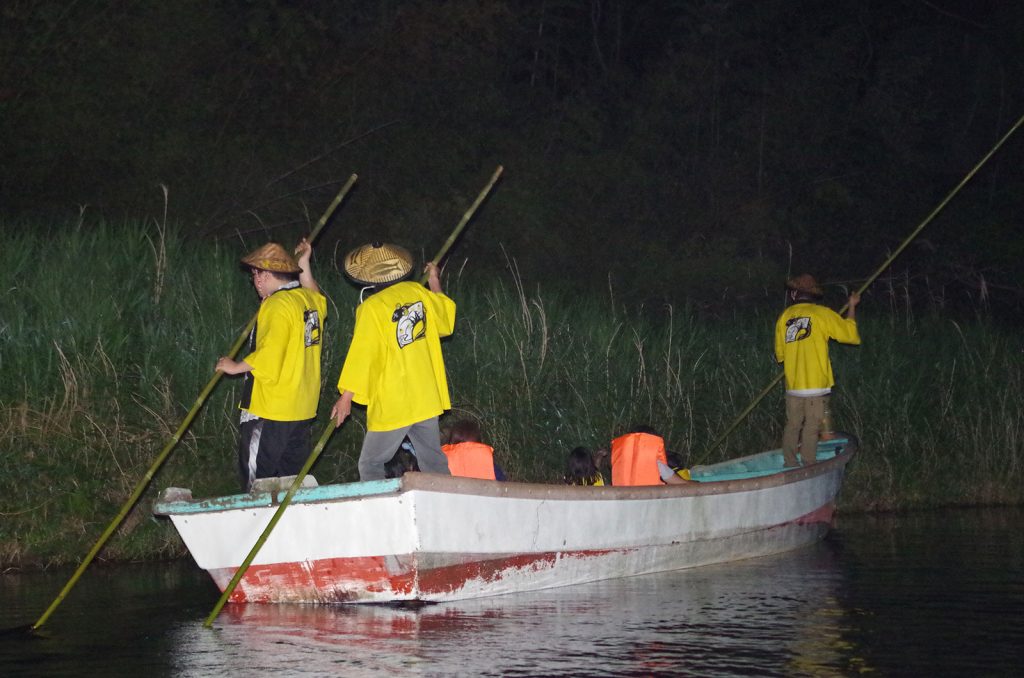 The Hahagawa Firefly Festival was started by volunteer activities of local people for the purpose of preserving Genji fireflies in the Haha River and promoting it to people inside and outside the town. It may be canceled due to rain or the amount of river water level. Click "here" for a map of the Firefly Festival site and parking lot.
Event schedule
Date and Time

sat,04.06.2022 ~sat,11.06.2022

【cancel】

Place

Kaiyo-cho Takazono Riverbed of the Haha river
15-20 minutes by walk from Asa Coast Railway Kaifu Station

Takase boat boarding fee

Adults: 500 yen / Elementary and junior high school students: 200 yen
Due to capacity, only 50 tickets will be sold on a first-come, first-served basis.
*Numbered tickets will be distributed from 6:30 p.m. on the day of the event.
They will kindly teach you how to make a bamboo boat.

You can watch fireflies on a Takase boat

Genji fireflies are flying!

Bamboo lanterns are also displayed and sold.
Detail
Saturday, June 4th

Night stalls will be open from 6:00 pm.
Yakisoba, sausage, lottery, juice, french fries, etc.


Remarks

●There are also classes on bamboo-leaf boats and bamboo flutes (free of charge).

During the festival, the following accommodations in Kaiyo Town will provide transportation to and from the Firefly Festival site.
Please check with the following accommodations: "Minshuku Kaifu, Fureai no Yado Yu Yu NASA, Onsen Minshuku Harurutei, Hotel Riviera Shishikui,Bentenya Ryokan, Atago Ryokan, and Minshuku Takegashima" when you stay here.
Click here for a map of the Firefly Festival venue and parking lot
Event information
Address

Takazono Kaiyo Town, Kaifu District, Tokushima Prefecture

Telephone number

0884-76-3050 (Kaiyo Town Tourism Association)

Access

By car/ About 2 hours from Tokushima IC to Muroto/Kochi via Route 11 → Route 55
15-minute walk from Kaifu Station on public transportation/Asa Coast Railway